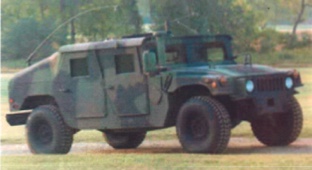 Nartron's EESS optimized the HMMWV's reliability in combat, saving lives.
Nartron Awarded U.S. Army Contract that will ImproveSoldiers' Safety, Save Taxpayers Millions
REED CITY – Nartron Corporation today announced that the company had been awarded a contract from the U.S. Army to manufacture a new Electrical Engine Start System (EESS) to ensure HMMWV operational readiness to improve soldiers' safety in combat.
The EESS is a new equipment upgrade for the starting systems of HMMWVs that will dramatically improve the engine performance of the Army combat vehicle. Saving many lives. The Army estimates that taxpayers will save between $43-63 million due to Nartron's patented
EESS.
"This contract will create 100 new jobs here in northern Michigan," said Heather Huber, Nartron vice president. "Production ramp-up will start immediately. with volume production scheduled for the 4th quarter of 2006."
Governor Jennifer M. Granholm congratulated the company on its innovation that will help protect our soldiers while providing high-tech jobs in Michigan. The Governor received a demonstration of the company's technology during a 2005 visit to Reed City.
"'Nartron is to be commended for helping protect soldiers' lives, saving taxpayers' money. and bringing jobs to our state," Granholm said. "Nartron is the kind of company we want in Michigan, and through our 21st Century Jobs Fund, we are fostering the growth of more companies like Nartron, companies that are using advanced technology to create jobs for highly trained workers, the types of jobs that can't be outsourced."
Nartron has received national attention for its automotive safety system that prevents children from being injured or killed by power windows. That safety sensor technology resulted from a very costly, 15-year research and development program and will result in more than 1,000 new jobs when volume production occurs.
Nartron has been recognized by Inc. as one of "America's Top 30 Innovators."

EESS inventors David Shank and Mario Boisvert displaying the coveted '" U. S . Military Silver Award" for Nartron' s exceptional technical contributions.