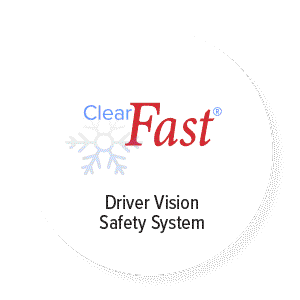 Icy car – Remove ice on windshield (snow / frost) with Clearfast® 
Clear Fast® allows for heated windshield wiper fluid deice. Icy car – Remove ice on windshield. Giving the driver a safe driving experience. The patented module will offer a safer, easier driving experience. Our windshield cleaning tool removes frost, snow, and ice at a very fast pace. This module allows for the windshield wiper fluid heater to melt ice. A fantastic device dispenses heated washer fluid through existing spray nozzle systems or wiper blades and activates through existing wiper controls.
How to remove ice from windshield without scraper? 
 Clear Fast®! De-ice a frozen windshield to allow safe driving quickly. This device clears ice speedily and will be introduced by automakers very soon.
Deice windshield – without the use of a snow windshield cover (Car snow / frost)
Our heated system removes car snow, frost, and ice from windshield at a faster pace than ambient washer fluid temperature. We are eliminating the need for a snow windshield cover that you need to put on and take off. All while dramatically improving overall driver visibility and clear vision safety. Also, it eliminates exiting the vehicle to scrape the windshield.
Fast and Efficient for removing ice accumulation
Eliminates the wait time required for the windshield to warm and melt the ice / snow / frost (remove). Our unit draws significantly less alternator current than a heated windshield.
Ready On-Demand for ice accumulation
Clearfast® powers on automatically when the engine is operating – system ignition is tailored based on customer preference. Safely removes ice accumulation.
Exceeding OEM requirements
Vehicle Control Unit Compatibility meets OEM requirements. No more ice on windshield! Clear Fast® provides built-in system diagnostics and other vehicle control unit (s) interfaces. All while meeting FMVSS, SAE, and OEM's requirements. Remove ice on windshield…  

Intelligent Power Management Full-scale power level control (0-100%) OEM selects power range, fixed or dynamic Power level control via CAN or other connection Integrates seamlessly
Read More »