How to get ice off windshield fast
Car covered in snow – car windshield.
Car snow removal has always been a hassle through the years. Your glass windscreen is covered with snow, and what would be the fastest, easiest way to clear all that snow so you can see the road to drive the vehicle in these harsh conditions safely?
Use clear fast. Our system provides a heated fluid to remove snow from the car windshield. Spray this heated fluid onto your car, and the windshield wiper will clear it away.
In this video, you will see the clear fast system in progress. It clears the windshield in roughly 30 seconds! You will hear the start of the automobile.
38 second video showing how fast (30 seconds) the ice frost snow is cleared from the windshield.
… and how to defrost windshield
You will notice in the video that the car starts and takes a few seconds to warm up, then Windshield fluid is sprayed from the Windshield washer reservoir with the Clear fast® device installed. This removes snow, frost, and ice from the windshield glass quickly and efficiently. The Windshield wiper blades spread the heated fluid sprayed from the windshield washer nozzle evenly across the windshield, melting any ice that may be present. As a result, you will no longer have an ice car.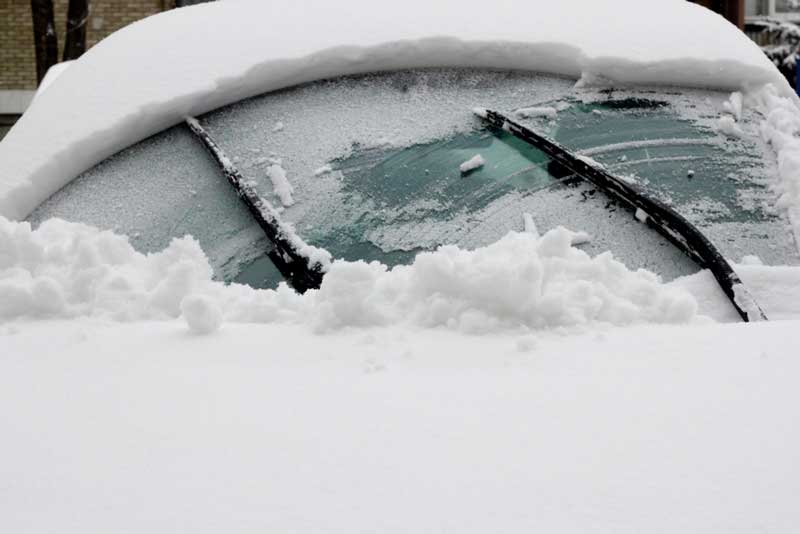 Snow cover – I bet you wish that your car had Clear Fast ®
Electric cars can benefit from the quickness of Clear Fast®.
Electric cars use the battery for everything, including clearing the car windshields. It is imperative to ensure you get a clean windshield as quickly as possible. With Clear fast® windshield de-icer, heated fluid from the windshield washer reservoir clears these electric cars of snow, frost, and ice in seconds.
Electric cars are a new technology and are becoming more and more popular. Car companies scramble to develop new models and compete in this growing market. One issue these electric cars share is the need to keep the windshield clear of snow, frost, and ice. This can be a challenge, especially in cold climates where these conditions are common.
Electric car owners will find that using Clear fast windshield de-icer system is the best way to clear their windshields quickly. Clear fast is an electronic system that is dispensed heated fluid from the windshield washer resevoir. It clears snow, frost, and ice quickly, allowing the driver to see clearly and safely.
Clear fast is going to be installed on next year's car models. It is a great way to clear your windshield during a  very cold winter.