The Delphi windshield cleaning system is an innovative way to clean your windshield quickly and easily. This system provides a momentary burst of heated windshield washer fluid that can remove frost, slush, snow, and freezing rain. The system also works to wipe off insects and road film from your windshield during warmer weather. Installation is easy; connect three wires, two washer fluid hoses, and two mounting bolts. All the required installation hardware is included. Deice frost fast with the Delphi windshield cleaning system!
All Weather conditions! – Windshield Cleaning System
The Delphi Windshield Cleaning System is a great way to keep your windshield clean and clear in all weather conditions. The system heats the windshield washer fluid to 140° F in just 10 seconds, making removing frost, snow, and ice from your windshield easier. In addition, the system inhibits wiper freeze-up in cold weather, dramatically improving visibility and safety.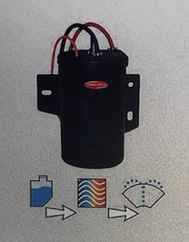 The Delphi Windshield Cleaning System also eliminates interior windshield fogging in most weather conditions, making it easier to see while driving. Finally, the system's quick removal of snow and ice from windshields and ability to quickly remove bug residue and road film makes it a great choice for windshield cleaning in all seasons.


Delphi Windshield Cleaning System will keep your windows clean and streak-free.
The Delphi Windshield Cleaning System is the only product on the market that can clean large windows in any weather. The system dispenses 150 ml of heated fluid through the existing nozzle or wiper blades and conveniently operates through the current wiper controls. The system is also simple to install, with just three wires, two tube clamps, and two screws. Plus, it doesn't operate before or during engine start-up, so there's no battery drain. And because the system is micro-computer controlled, it slowly ramps up power and then slowly ramps down power to eliminate power fluctuations. Finally, the dual heating system provides immediate (4 seconds) heating, followed by a second heating cycle for the full 150 ml of fluid. So, no matter the vehicle's angle – inclines, hills, or level ground – the Delphi Windshield Cleaning System will keep your windows clean and streak-free.
The rear mounting deicing system is for your vehicle rear, with slower heating rates and 24 volts.

Delphi Diesel
1624 Meijer Drive, Troy, Ml 48084, USA
www.delphidiesal.com
Publication No. DDSU200
Delphi Technologies, Inc
All Rights Reserved