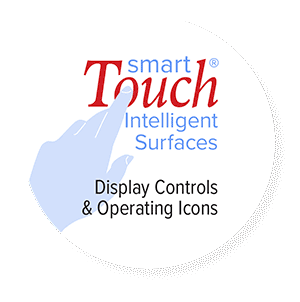 Hand controls for cars – Car interior – Auto and truck capacitance sensors – Smart Touch®
Smart Touch® is a breakthrough in human interface technology for your car interior. You are giving the user direct access to computing power. All by using car electronics with the touch of a finger. We use car hand controls to actuate a car sensor. Auto and truck electronics for your vehicle's interior with capacitance sensors for multiple functions.
Functional interiors for a car
Smart Touch® enables a person to use fingers to control computer software through a display touchscreen. 
Smart Touch® enables occupants to use fingers to control dead front lighted buttons and controls with haptic feedback.
Applications for car interiors include:
the automotive IP (instrument panel), radio, and HVAC controls – no moving parts.
Incorporate multiple-input sensing slewing of the touch area and automatic shutdown or lockout function.
Control fluorescent fixtures and electric motors with Smart Touch®. High density "keyboarding" allows compact control configurations. The aesthetic car interior is enhanced.
Furthermore, Smart Touch® can operate on AC or DC – Controls resistive and inductive loads. Uniquely lend itself to multiplex systems since its solid-state switching operates at logic levels and can interface directly with electronic controllers. A key feature of Smart Touch allows for multiple touches simultaneously or sliding fingers across a screen.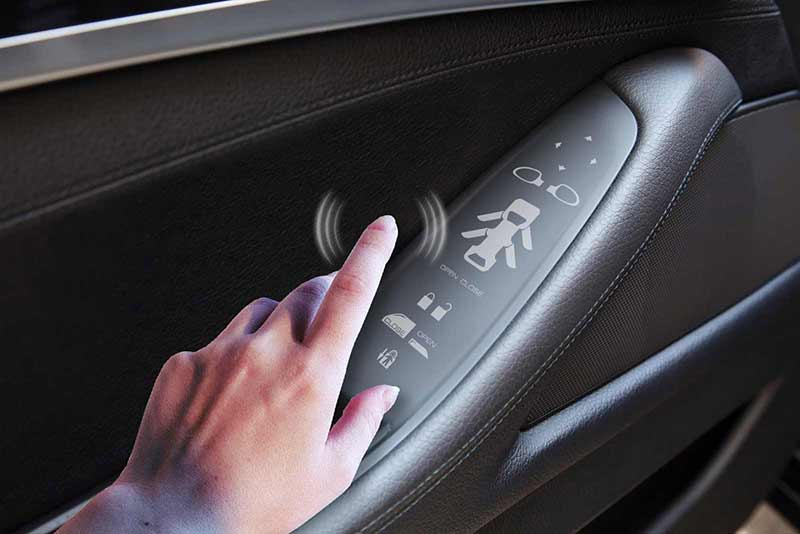 Control surface for use with items like interior car lights, HVAC, Radio, instrument panel, opening commands for doors, windows, locks, sunroof, EV lids, and hatchbacks.
These control surfaces use capacitance sensors to know when a user's hand or finger is present. Swipe on a door, touch screen in a car, or any part of the car interior can become a control surface. These surfaces include garnish molding, door trim panels, etc.
Secondly, We use a capacitance unit under a lighted control surface to control interior car lights, doors, windows, or any device you would like to control on the car interior. These surfaces allow for optimal car interior design through nonconductive covering materials such as glass, plastic, wood, etc. – maintaining the interior design harmony.
Sealed system operation works at virtually any humidity level. Smart Touch® is capacitive touch technology that empowers intuitive touch. Gesture-based user interface in the vehicle's interior with total 3d design freedom in styling and plastics – accent lighting with controls and surface finishes. Multi-level touch allows for functions pendant on touch pressure, numerous contacts, and the duration of a touch.
Reduces design intricacy – no openings for switches and switch mounting structures, reduces wiring and weight. They are electrically Functionalizing Plastic structures.
These control surfaces can offer haptic feedback.
We use haptic technology to allow the user to realize that they just touched the kill switch car (vibrating to communicate to the user that – the control surface is touched). Haptic feedback allows the user not to be required to look at the control surface to understand activation. The Force feedback steering wheel also uses haptic feedback.
What is a dead front panel – electronics for car
The term "Dead Front" refers to a control surface in a car or truck with a material layer between the controls and the electronics. Allowing items to be spilled on the control surface (car dashboard, door, or another area) buy easily cleaned because there are no voids connecting the electronic sensors. These are capacitive electrical controls and are often invisible when they are inactive. Once activated, they can be backlit and use haptic feedback once the user's hand / finger is detected.
Dead front panels never have the electronics exposed to the user's side of the panel. Another positive about dead front panels is that you never have to be concerned with dead pixels from a digital display. The most significant advantage of a dead front panel is cleaning – because it is often a flat surface with the electronics hidden behind the panel.
Finally, whether a digital dashboard car with a touch screen or a heads-up display, our control surfaces will perform optimally. Performance with a very classy car dashboard decoration. You will eliminate all the physical knobs and controls. This gives a much cleaner look while maintaining the operation of all items. Capacitive switching interface technology creates new automotive design opportunities.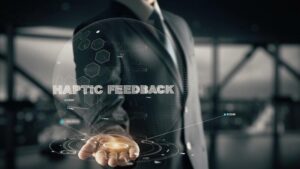 Haptic technology uses sounds and vibrations to communicate information to people.
Read More »