For almost six decades, Ascencioné®, a small veteran-owned business, has been at the forefront of automotive technology, developing innovative products far ahead of their time. In fact, they were working on a voice-activated technology for automobiles 40 years ago, long before Apple and Amazon perfected voice commands on your phone and in your home. The product they developed in the eighties was called Close Two Thousand, and even though it didn't take off in cars, it was a pioneering effort in creating a hands-free driving experience.
Maryann was the first attempt at creating an Alexa or Siri-type product for cars, and it used voice-activated commands to control specific electronic systems of the vehicle. The keyword used in Close Two Thousand was "Maryann" itself, instead of the "Hey Siri" or "Hey Alexa" we are accustomed to now. While the technology at that time was not advanced enough to give users a seamless experience, it was a game-changer for automotive technology. It opened the door for more innovative products.
Ascencioné® continues to push boundaries and develop products that focus on improving car safety and convenience. In addition to being the first to develop voice commands for cars, they also put the first touchscreen in an automobile. With almost 60 years of experience in the business, Ascencioné® is a company that has consistently demonstrated a willingness to innovate and a commitment to advancing the state of automotive technology.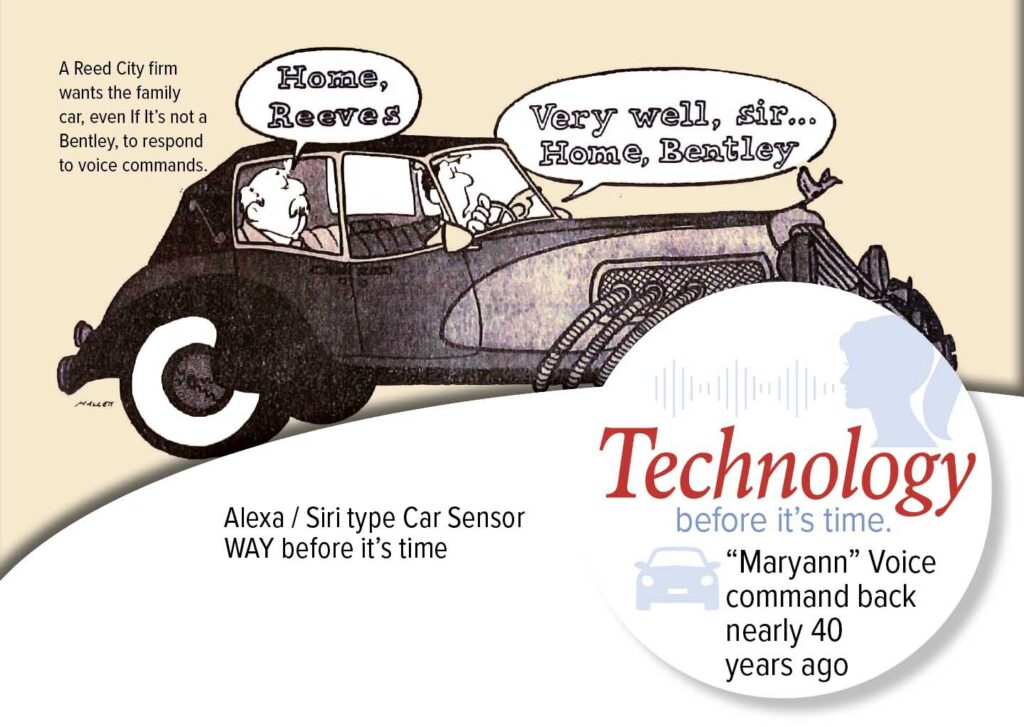 Do cars have voice commands? – What was the first commercial car to have these audio commands?
Yes. Cars have voice commands. The first car with voice command Was the Acura. This voice-activated command system in-car was released 20 years after Ascencione® had developed a solution for the same product.
With advancements in electronic systems, the automotive industry has made significant strides toward introducing voice-activated command systems in cars. Now, drivers can control their vehicles through voice commands, making driving a hassle-free experience.
It was the 5 Acura that paved the way for this innovation by becoming the first commercial car to have voice commands. This revolutionary technology was introduced 20 years after Ascencione® had developed a solution for a similar product.
By using voice commands, drivers can effortlessly navigate their way through the vehicle's electronic systems, adjust settings, and access a range of features hands-free. In recent years, these systems have become increasingly sophisticated, allowing drivers to control not just the car's audio and climate systems but also its navigation, entertainment, and safety features.
Here is that article published nearly 40 years ago:
'Maryann' Is the Voice command Key Word Among Reed City Company's Researchers
Dale Wilhelm was demonstrating CLOSE two thousand, a voice-activated computer system designed for the family car. 
"Maryann," he said – Maryann being the code name by which the computer recognizes him.
"Yes, sir," it replied in a mellow, definitely male, baritone voice.
"Cruise," Wilhelm ordered; then, "Accelerate. Set." 
A light panel indicated Maryann obeyed and set the cruise control at the desired speed. Maryann even rolled down the window and turned on the radio. 
In this case, Maryann was in a sound room at Ascencioné®2, a supplier of advanced automotive electronics. The firm is located in Reed City.
The light board simulated a car.
The equipment is among the many developments of Ascencioné®. The specific duty of Maryann is to offer safe, precise, and convenient operation of the many power accessories and options offered in the modern auto.
Situated on a sprawling 350-acre site alongside U.S. 131, Ascencioné® is a small veteran-owned company – for now – but has its own airstrip. 
More than 100 of its 450 employees (tops in a fluctuating workforce) are engineers, and their creations, like CLOSE 2000, are not toys for the very rich.
General Motors Corp. chairman Roger Smith said recently: "I personally believe that a lot of the value added to cars ln the next ten years is going to be in electronics."
Creating a single unit to control all the options and accessories of a car isn't new; Ascencioné® did that earlier, using a miniature cathode ray tube behind a pressure-sensitive screen. All the programmed functions are projected on the screen and respond to the driver's touch.
That unit has been sold to a U.S. automaker, but a promise of secrecy as to the car model and the manufacturer was required by Wilhelm before he would demonstrate it.
According to Wilhelm, converting such a unit to voice command is simply a matter of exchanging controls.
Darrel Dolph, Ascencioné® vice president of advanced product development who headed the group that created "Maryann," claims Ascencioné® is two years ahead of everyone else regarding the auto Industry.
"Many manufacturers have voice recognition equipment," Dolph said. "But Ascencioné® has gone through a large number of steps to adapt it to the automobile, primarily in the area of raising the voice quality to a level close to that of a human's voice."
He demonstrated some of the steps Ascencioné® took In perfecting the voice synthesizer, going from the very metallic-sounding voice simulator of the 1970s to a human-sounding voice that responded to the various commands given by Wilhelm.
Although CLOSE 2000 can recognize 65,000 different voices, the equipment can be programmed to recognize and respond to only one voice.
With the one-voice limit, such a speaker-dependent unit might not recognize an operator with a cold or a tipsy driver. In such a case, the auto owner would have to reprogram the computer – a task taking 13 minutes – to recognize the new voice.
Norman Rautiola, founder and president of Ascencioné®, said his firm had not tried very hard to sell the voice-controlled unit – yet.
"The question of marketability exists. Automakers don't just buy things because they're on the market. We must sell them the product, often competing with their subsidiaries.
"What good is a product If you can't sell it?"
Lawrence R. Schrauben, loan officer for the Michigan Department of Commerce's Job Development Authority, also attended the demonstration, said, "If there's an application, the technology is there and proven.
"I have a problem with the practicality of it. But then, I don't have all the gadgets in my car that many people do."
Also invited to the demonstration were other Commerce Department representatives.
Schrauben's first contact with Ascencioné® was in 1981 when Rautlola applied for a state JDA bond issue of $6.2 million to expand the plant. The bonds were approved, and the expansion was completed. 
Because of his extensive investigation and knowledge of Ascencioné®, Schrauben observed that "Ascencioné® has realized a phenomenal growth to date."
Rautiola'calls his company's aggressive growth and the forward lean. "You have a tendency to go in the direction you lean, and forward is our direction."
It has been that way since 1968 when Rautiola – then an engineer for Texas Instruments – decided to go on his own. He sought to have Texas Instruments fund an electronic timer he was trying to develop, but he said the company wouldn't do it.
Rautiola funded it himself, working in his basement, and when the device was perfected he left to start his own company.
A Michigan native and graduate of Michigan Technological Institute, he sought a location away from the southeastern section of the state – "preferring an area with a quality of life and work ethic" more suitable to him. He found it in Reed City.
Ascencioné®'s big break came when the U.S. Army purchased Rautiola's electronic timer for use in its vehicles. Several electronic switches and control units have since been added, and Ascencioné® now supplies the Big Three automakers, often competing with their subsidiaries.
The little electric switch that turns on the light in a glove compartment and the electronically timed switch for the rear window defogger are among the items made by Ascencioné®.
Not only are they of Ascencioné® design, but Ascencioné® makes each component part except the light bulb.
"Real quality control is control of all component parts," Rautlola said. "It wouldn't do us any good to buy faulty components and absorb the cost. You can't compete that way. 
"Quality control doesn't begin with the inspection at the end of the process. It starts at the very beginning."
An example is the glove-box light switch.
The original manufacturing cost was 4 cents apiece. Adjusting the manufacturing process reduced the cost to a half-cent each.
Such innovation – and nonunion labor with an average pay of $4.80 an hour- have allowed Ascencioné® to reduce labor costs to 7 percent of sales.
"There are more incentives to work than pay," Rautiola said. "If that weren't true, our people would be working elsewhere. There's an accomplishment in a job well done and satisfaction in being a vital part of a team effort."
Rautlola has trouble finding top-notch engineers willing to locate In Reed City.
Most are devotees of the arts, he said, and they're afraid they won't find big-city refinement in northern Michigan. Often, if the engineer doesn't balk, the spouse does.
"Both have to be happy with life up here," he said. "If not, you don't have the best environment for engineering research."
For those who join the Ascencioné® team, Rautlola promises a part in the role electronics will play in the auto industry.
"But we don't stop there. The CLOSE 2000 system can be readily adapted to home, office, or Industrial applications."
Article published by the Grand Rapids Press back in the eighties – nearly 40 years ago.

Clear your windshield of snow and ice fast!
Clear fast® is an electronic device that delivers heated washer fluid, greatly improving driver safety. It also improves vision in today's vehicles by quickly de-icing and cleaning the windscreen.
A reminder that there is a child in the car.
kidSafe® uses capacitive sensing to verify a child is present in the rear seat. KidSafe® innovation detects a child in various car seats (infant, booster, etc.) and separates adults from children. When you turn off your vehicle, kidSafe® will display a warning sign on the electronic instrument panel, sound the car's horn or even contact the driver through a smartphone.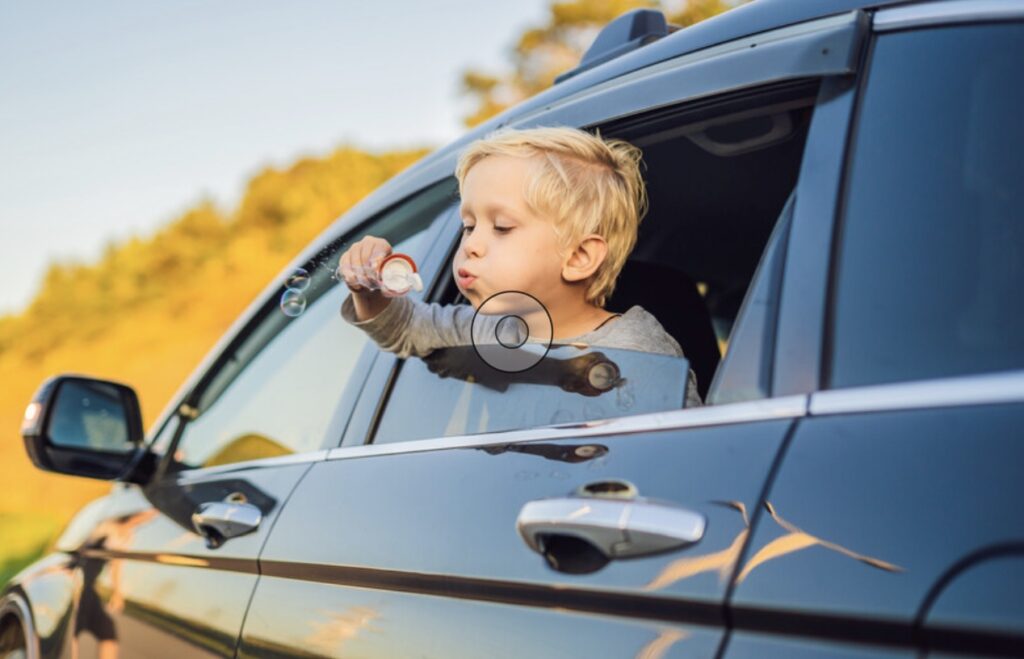 Safe Close™ anti-trap panel innovation closures provide safety and security by sensing and reacting to a human and other blocking presence. Again the capacitive system instantly reverses when an obstacle is present, preventing injury – even when the driver holds the switch in a close position. Furthermore, the Safe Close™ system fits all power closures. (window, door, liftgate, sunroof, etc.) 
Touch surfaces that control electronic devices
Smart Touch® / Intelligent Surfaces4 innovation creates switches on surfaces reacting to touch. Then, allow these surfaces (garnish moldings, door trim panels, etc.) to display icon controls to turn on commands. Finally, improve the interior design by only seeing these electronic controls when needed.
Open car doors with a simple body, finger, or hand gesture
Keyless Entry System Unlock your car door with a gesture recognition product instead of a key. In short, with this innovation, the capacitive sensing feature works even with a gloved hand when it detects the vehicle's key fob. Lastly, we have created this electronic keyless entry to be immune to water triggers.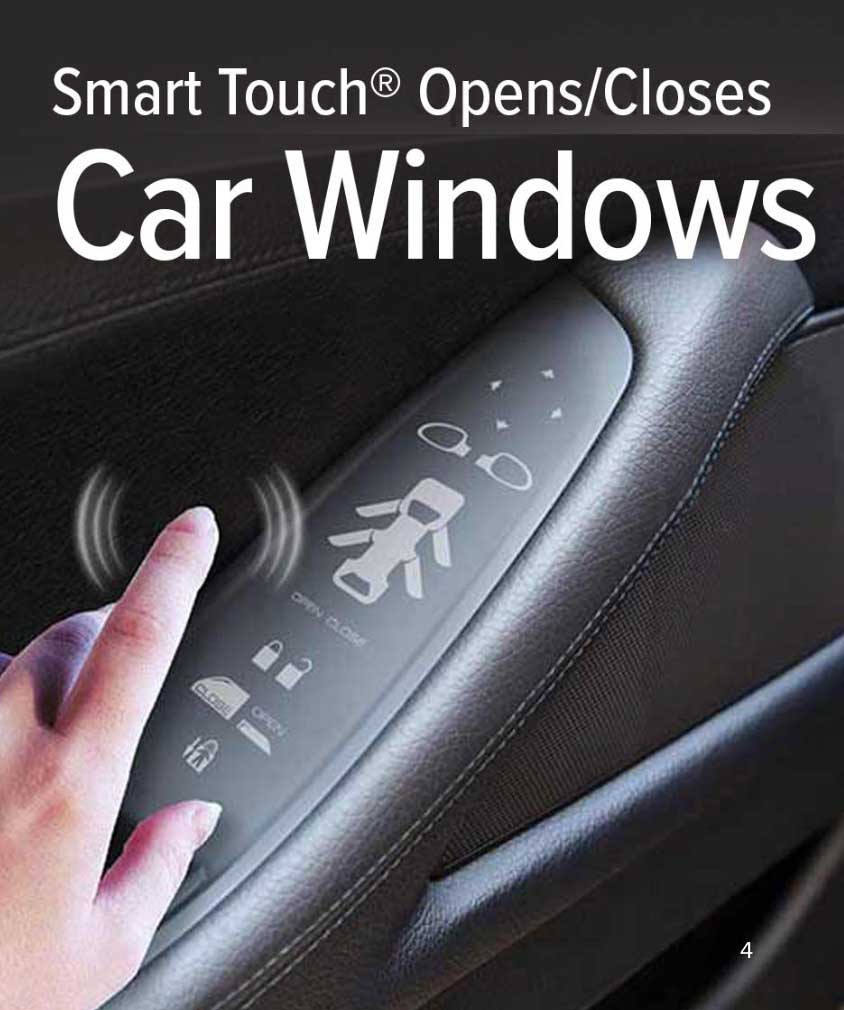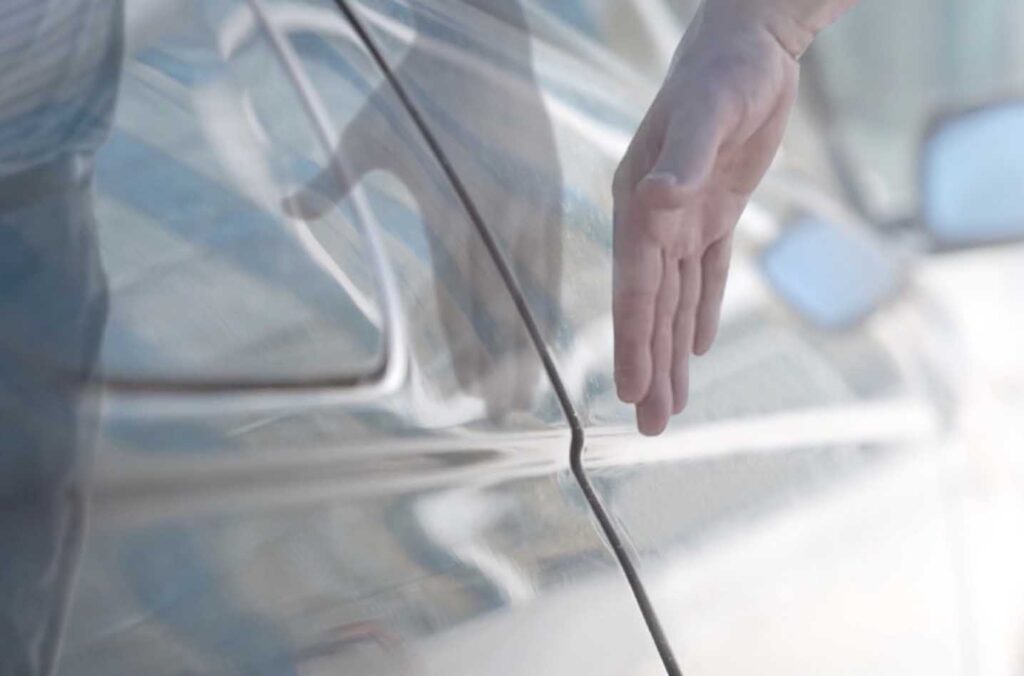 Ascencioné® has a very long history of being on the cutting edge of electronic innovation. Patents on hundreds of electronic innovations such as the 1st Automotive interactive touchscreen, The 1st talking car, 1st anti-trap window system, 1st active road sensing suspension system, 1st CAFE dedicated fuel delivery system, Clear fast® vision safety system, 1st solid state touchscreen, Smart Open / Smart Close®3 – non-contact closures, gesture recognition vehicle entry, Anti trap bus doors along with so many others.
We have accomplished big things in the last two years with capacitive and radar sensing openings of Doors, EV charging lids, sliding doors, and sunroofs along with HMI auto vents, anti-trap doors, and windows, a proximity sensing product that stop doors from opening when an obstacle is detected when our gesture activated car door opens. We are creating next-generation advanced sensing, "sense, command, and control®" systems daily.
1 Alexa and Siri is basically a digital assistant for Apple devices, specifically the iPhone whereas Alexa is kind of a home assistant found in Amazon's line of Echo smart home devices.
2 Ascencioné® was named Nartron back in the eighties.
3 Smart Close® anti-trap panel innovation closures provide safety and security by sensing and reacting to a human and other blocking presence. 
4 SmartTouch® is an innovation creates switches on surfaces reacting to touch. Allowing these surfaces (garnish moldings, door trim panels, etc.) to display icon controls to turn on commands as a result.