Revolutionary HVAC System Announced
The TurboCool™ climate control system is a significant breakthrough in the application of turbine technology to the need for energy-efficient, high-performance climate control systems. TurboCool™ has a nominal (18,500 BTU) cooling capability and is scalable to meet a broad range of vehicular and commercial use requirements.
According to Norman Rautiola, "This new system employs a unitized electric motor/turbine compressor that operates with a low-pressure non -CFC refrigerant. This new DuPont fluid offers a much higher coefficient of performance than Freon or 134-A. As a result, we are able to achieve very high performance through microprocessor variable speed control of the two-stage compressor. It's also inexpensive and lightweight due to the molded DuPont plastic compressor."
Since the system operates at such a low pressure and a relatively low turbine speed, the inherent reliability and low cost are assured. This performance encourages the immediate application of TurboCool™ to replace conventional compressors in commercial and vehicular applications.
The Contour is Ford Motor Company's vision of a global luxury sedan that combines contemporary proportions with the latest leading-edge automotive technology. "The Contour demonstrates that the interrelationship between design and technology can be creative as well as functional," said
 Jack Telnack, vice president – Design.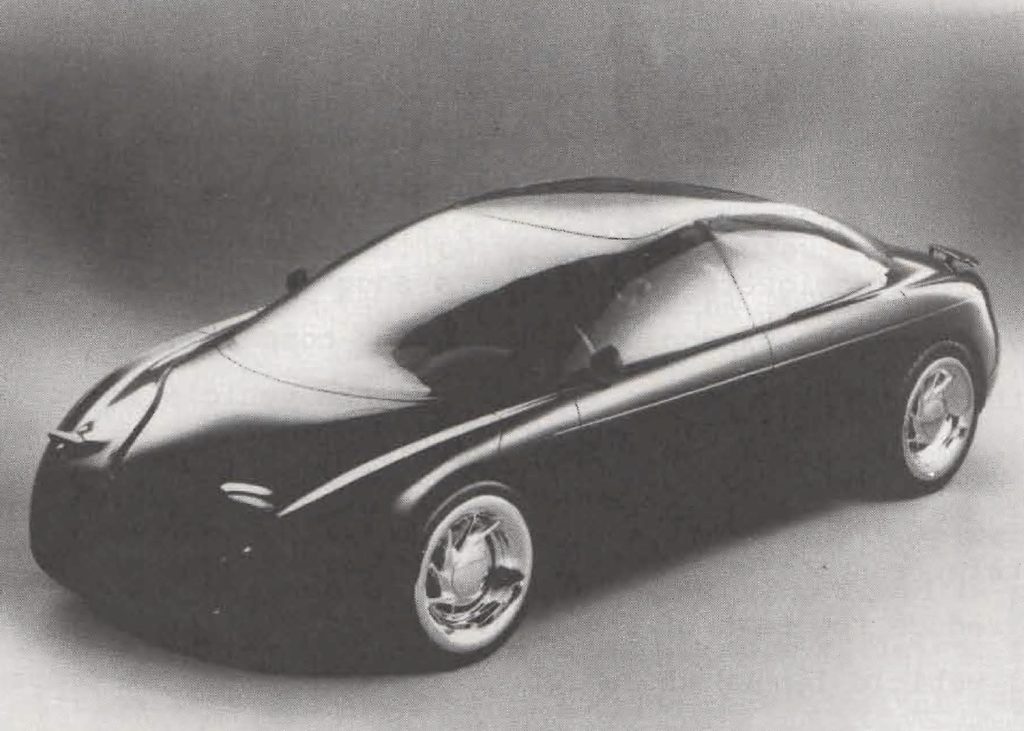 CONTOUR TECHNICAL DETAILS
The thrust of the mechanical content of the Contour is to decrease the hardware and the space it occupies while improving serviceability and comfort.
Ford designers and engineers sought to improve the passenger environment by expanding the interior compartment. At the same time, they wanted to reduce the size of the vehicle to decrease weight and improve fuel efficiency.
Major innovations include an experimental compact T-Drive powertrain, suspension, and brake systems. These innovations allow the designers to reduce the engine compartment's size and reduce overall vehicle length while increasing the passenger compartment and luggage space.
T-Drive
Ford's Advanced Engine Group is experimenting with a new engine and transmission arrangement, which reduces the amount of vehicle space needed for the powertrain. The overall vehicle length also is decreased by five to six inches in the front end when measured against a comparably sized engine.
Compact Brake Booster
The compact brake booster integrates the brake booster, master cylinder, and brake pedal into a modular assembly that reduces the present longitudinal package space by nine inches. In addition, this design offers the advantages of a four-pound weight saving and 0.6-inch shorter pedal travel. Decreased dash panel deflection yields an improved brake pedal feel.
This compact brake booster permits pretesting for correct brake pressures, pedal travel, and brake light function before assembly into the car. Reliability is improved because the brake subsystem part is certified before installation.
Hermetically Sealed Air Conditioner
The compact, electrically driven air conditioning unit remains under development. This unit uses a small, high-speed turbine compressor which uses a non-CFC refrigerating fluid in place of freon. This environmentally safe fluid is more efficient than present refrigerants and has been the ma j or thrust behind the present development effort.
Another major benefit of the design, which is under development, is a 35-pound weight saving versus the conventional mechanical air conditioning system. The use of nonmetal components in the system's lower operating pressure environment has achieved this weight saving.
This system can be precharged and tested before installation in a vehicle and should offer reliability equal to that of home refrigerators.