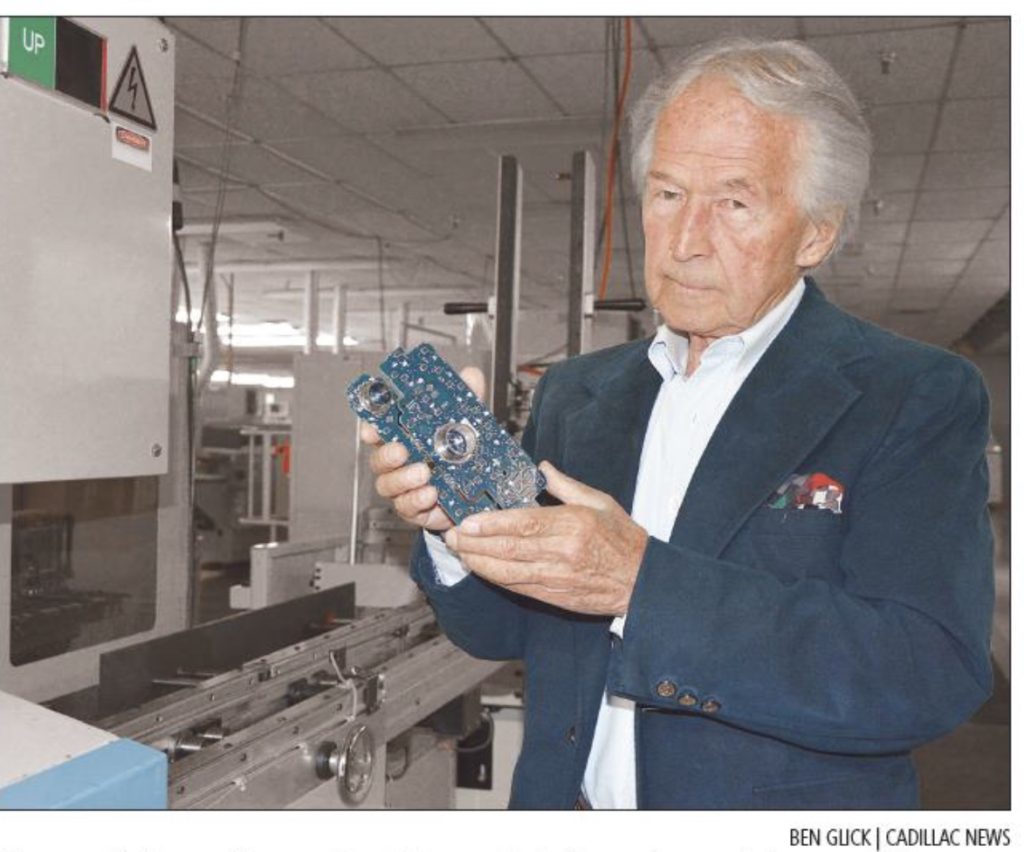 The world's largest carmakers vie for Nartron's Clear Vision Safety system
BY BEN GLICK 
CADILLAC NEWS
Reed city: When it comes to firsts, Nartron has many. According to just a partial patent list produced by the company, Nartron (founded in 1967) has accomplished 62 firsts. The company is well on its way to many more as it develops technology for autonomous vehicles. 
At this moment, autonomous vehicles are no longer a theoretical technology. Companies like Tesla and other large automotive companies have already proven their viability before taking the road. 
However, when the first autonomous vehicles became available, one crucial aspect of the technology that has been taken for granted. One aspect is how the vehicle will be able to monitor its environment as residue accumulates on the sensors that allow the vehicle to navigate. 
LIDAR
Most autonomous vehicle designs call for multiple sensors that combine LIDAR, which uses light in a pulsed laser to measure distance, and radar and optical cameras that allow the vehicle to see. 
Most early autonomous vehicles will require these sensors to be clear to function. This means if there's dirt on a lens and it produces a distorted image, the car's computer can't interpret it. The vehicle won't be able to navigate safely and will pose safety problems. 
"You never want to be in a blind vehicle," Nartron Chairman Norman Rautiola said. 
But how to keep these sensors clear is a problem Nartron is determined to solve. They already possess the technology needed to solve these problems. 
The technology comes from an earlier system Nartron developed. Technologies were initially used to clear ice and bug residue from a windshield quickly. Complete with heated washer fluid and redesigned to be used on advanced sensors for autonomous vehicles. Another industry first, Rautiola said. 
"It will allow us to grow dramatically because we're already there," he said. 
Rautiola calls the technology Clear Vision Safety. The world's largest car manufacturers, such as BMW, Daimler-Benz, Ford, and Volvo, have all expressed interest in obtaining the technology. Their autonomous vehicle programs will use or have already begun implementing it. 
Which ones were interesting and have already begun implementing the technology is something of a company secret, Ratioula said. 
A team from Nartron, including the company's executive vice president Demetrius Agrotis, recently wrapped up a tour of Europe. 
All roads lead up to the point Nartron can contribute to autonomous vehicle technology. Rautiola has meticulously groomed for decades and molded the company to achieve America's Top 50 Innovators by Inc. Magazine. No. 8 on the list of top 30 companies is Nartron.
Components for its future vehicles
Rautiola's leadership has also helped the company gain the attention of automotive technology giant Tesla two years ago. The company will produce advanced components for its future vehicles. 
These components include a non-contact anti-trap-powered seat system. It stops rotating seats from moving if it detects an object, like a person, in the way. 
The main idea behind the technology is that seating in autonomous vehicles will no longer need to face forward. At the same time, they need to know if people or fragile objects are in the way. 
Little doubt Nartron has the brain trust to produce sophisticated technology through its engineers. Rautiola's business philosophy has set the company apart, he said. 
Some of that philosophy comes from Rautiola's emphasis on vertical integration. Combined with the company's technical prowess, it creates a symbiotic relationship between technology and business acumen. For Ratioula, it isn't so much what technology Nartron has at its disposal but how it chooses to use it, creating a two-prong approach.
Automation
Automation allows Nartron to compete on a dollar-for-dollar basis. With competitors in lower-wage countries like South Korea and Mexico on one end. The company's focus on creating its in-house products maintains a high level of quality that allows it to compete with its competitors—companies like those in technologically advanced countries like Japan and Germany. 
"Why would the most powerful car companies in the world be interested in little Nartron?" Ratioula said. "Because of our technology and our ability to produce it competitively globally for electronic systems. There is zero tolerance for you as a supplier if you can't ship without defects. You've got to be structured and disciplined in the manufacturing process. If you don't have both, you can't be in the big leagues." 
Many of the patents for Nartron's products are old enough to have expired. Still, the company produces them cheaper and more reliably than any of its foreign or domestic competitors. 
Ratioula hopes to carry the company into the future as new technologies like autonomous vehicles continue to evolve. 
"Now is when our products are taking hold," he said.
calillacnews.com