Preheater Program
Harrison Radiator
Division of General Motors Corporation
200 Upper Mountain Road
Lockport, New York 14094

NartronCorporation
35 West Huron, Suite 404
Pontiac, MI 48058
SUBJECT: NARTRON's PERFORMANCE -PREHEATER PROGRAM
As you are well aware, Harrison Radiator's participation in the Preheater Program has been terminated, and you have been advised to stop all work on the timer/controller. This unfortunate situation, however, should not overshadow the Preheater Product Development Team's positive assessment of Nartron's overall performance on this project:
Technical competence & innovation, excellent communication, sensitivity to cost targets, adherence to timing benchmarks (in spite of evolving product definition), and the intensity of all involved to work-with a sense of urgency, are just some of the key areas your organization is to be commended. In essence, you have satisfied your customer.
We have relayed the above to Volvo Flygmotor who is currently reformulating their strategy regarding O.E.M. preheater applications. We expect they will be contacting you within the next month.
Again, thanks for your very capable efforts. It was a pleasure being associated with Nartron Corp. on this program.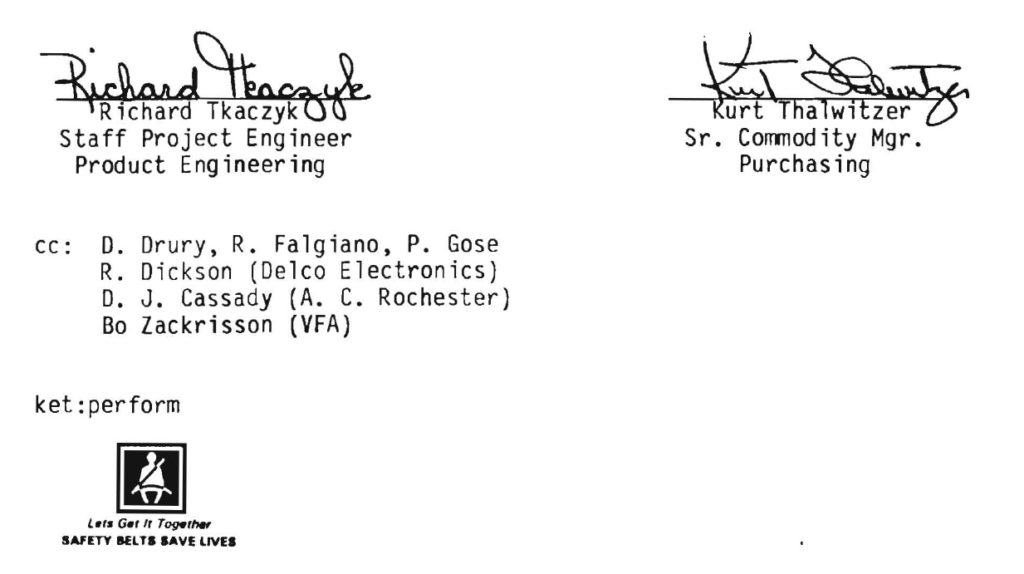 Preheater Program Update
Harrison Radiator Div., GMC, presentation to Nartron management, Reed City about the Preheater Program; 
HRD's assessment
HRD is pleased with its performance.

Nartron

 has done an outstanding job & has met all objectives in spite of changing specifications and tight timing.
design critique information must be incorporated in November samples.
How can 
Nartron

 help with the Preheater Program?
continue to support this program with the same level of dedication & commitment.
investigate all possible cost reduction/quality improvement ideas.
however: we realize that the message we deliver today may require you to reassess your position.
we believe it's only a matter of time until this is a "go" program.

 
On the basis of this sourcing criteria, Nartron was identified as in their Top Ten out of 1,200 suppliers–commendation issued by Mr. W. T. Sellman, Sup'v. 
AC/DE Flint Sourcing Criteria
QUALITY

 

COMMITMENT

 

TECHNOLOGY

 

DELIVERY

 

PRICING

 

FINANCIAL

 

LOCATION

 

EMPLOYEE PROGRAM

 

FACILITIES