The best Vision Sensor/Lens Cleaning Architecture for Lidar and cameras System Diagram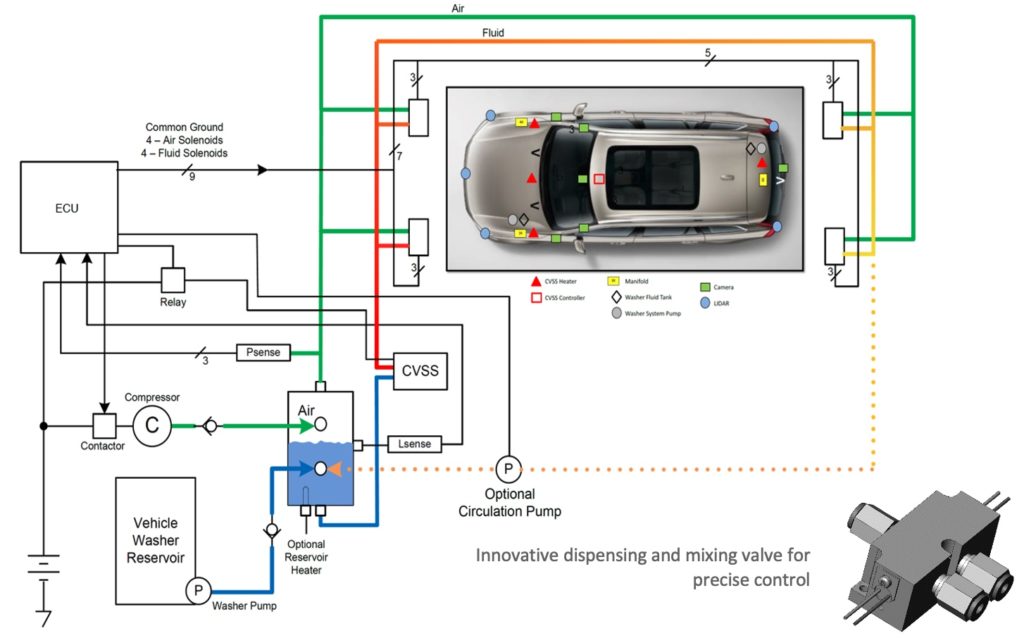 Lens cleaning Vision Sensor – LiDAR
A vision sensor is a device that uses sensors to detect objects and track their movements. The most common type of vision sensor is the camera, which uses an image sensor to capture images of objects. However, there are also other types of vision sensors, such as infrared cameras and ultraviolet cameras. Various applications use vision sensors, including security, surveillance, military, and industrial applications. In recent years, vision sensors have become increasingly popular in automotive applications. In particular, lane keeping assistance, automated braking, and automatic headlight control all use vision sensors. Soon, vision sensors will likely play an even more critical role in automotive safety and driver assistance systems.
Cleaning your vision sensor with air and liquid (water / cleaner)
A muddy vehicle driving down the road is an all-too-common sight. But what if there was a way to clean your vehicle? That's where the Vision Sensor comes in. The Vision Sensor is an innovative dispensing and mixing valve that precisely controls the amount of air and fluid needed to clean your vehicle. The system works with any vehicle, using any washer reservoir, pump, and optional heater. The system is also ecologically friendly, as it recycles the water used for cleaning back into the reservoir. So if you're looking for an easy way to keep your vehicle clean, the Vision Sensor is the perfect solution!
Customize your cleaning to meet your specific needs
The Vision Sensor Lens Cleaning system ensures that your lenses are free of streaks and smears. The Air Fluid CVSS Relay ECU also includes an optional reservoir heater and circulation pump. These two features work together to provide the perfect wash temperature, no matter the weather. Finally, the Innovative dispensing and mixing valve provides precise control over the amount of cleaner, which means that you can customize your wash to meet your specific needs. With the CVSS Relay ECU, you will have everything you need to keep your sensors working perfectly.