A sizeable free-form touch screen on the sleek Chrysler 200c EV's instrument panel serves as the driver's interface to control reconfigurable instruments, music library, navigation, and even e-commerce purchases. This is backed up by a range-extended electric powertrain that previews the automaker's plans to introduce a complete or range-extended electric vehicle to the North American market, with another three models following.
To read about these and other concept vehicles from the NAIAS, see Global Vehicles in this issue beginning on p. 7.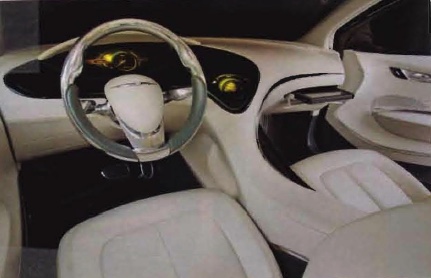 All Chrysler's 200c EV concept's interior is "a new statement for us. It also underscores our commitment to interior design, with Touch Screen Concept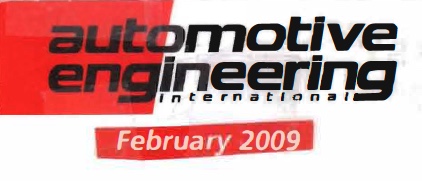 Chrysler concept connects inside with Touch Screen Concept 
Chrysler's newest concept car spotlights a cabin devoid of buttons and switches, but this sedan is totally in touch with its surroundings.
Touch Screen Concept
A sprawling touchscreen on the Chrysler 200c EV instrument panel serves as the driver's in-vehicle interface hub. "We believe this is the first application where you actually have a touchscreen in a free form a curved screen , that does not have the square brnmdaries and the flatness of today's touchscreen,;' said Klaus Busse, Director of Advanced Interior & Component Design for Chrysler LLC.
The driver can choose instrument gauge configurations, pick from a personalized library of music, make naviation choices, and control other applications – such as doing e-commerce purchases–by touching the screen. "We don't have any physical buttons. We have two capacitive touch wheels on the steering wheel, but the interior is free of any mechanical switches. Even the windows operate by Just swi ing your finger across a door panel display," said Busse.
As a communications portal, the car takes a ubiquitous approach. "The advanced connectivity applications of the 200c reflect our focus on convenience, socialization, and synchronization," said Frank Klegon, Executive Vice President-Product Development for Chrysler LLC. during the world debut of the sedan concept at the North American International Auto Show in Detroit.
Communication power
To illustrate the communication power of the 200c EV, the concept car was synchronized with a smart phone to serve as the vehicle's key fob as well as being a handheld link to various applications, such as seeing live invehicle camera images on the smart phone screen and using satellite imaging to see the location of the 200c on the smart phone screen. "This connectivity prototype is not smoke and mirrors. This is done by actual communication to the car via a 3G network," said Busse.
The front-seat passenger has access to a touchscreen that provides an interface for climate controls and an infotainment system as well as being the access point for a personal touchscreen stowed inside the glove box. That wireless touchscreen tablet enables the user to do a variety of things such as surfing the Internet or getting directions to a destination and then sending that information to the driver's touchscreen "without the driver being impaired by a distraction," said Brad Gieske, Visualization Designer for Chrysler LLC.
Wireless touchscreen tablet
A core team of eight designers and specialists began working on the connectivity system. "This was mainly developed in-house at Chrysler," said Gieske. "There are many ways for us to accomplish what we're doing. At this point, this is our concept" Added Ralph Gilles, Vice President Design for Chrysler LLC, "What smart phones have done for the electronics industrv, we're doing that for the car now. We're bringing all that connectivity into the car in a responsible manner that's easy to use." ·
All Chrysler 200C touchscreens and the window's touchpad use iQ Power™ technology