ClearFast® functionality is designed with precision and efficiency in mind. With a fluid volume of 36ml, it efficiently warms the chosen de-icing or bug remover fluids to a temperature range of 135-145°F, ensuring their optimal performance in various weather conditions. What sets ClearFast® apart is its intelligence in monitoring the health of the vehicle's power system. It automatically disables itself when the vehicle's power system voltage drops below 11V, preventing any strain on the electrical system and preserving the vehicle's functionality.
36ml Fluid Volume
ClearFast® Monitors health of vehicle power system (automatically disables at <11V)
Time to discharge is 48 sec. for initial warm-up + 37 sec. for subsequent warm-up @ 20˚F and 16V
Communications via CAN, Serial or Switch
Temperature controlled 135-145F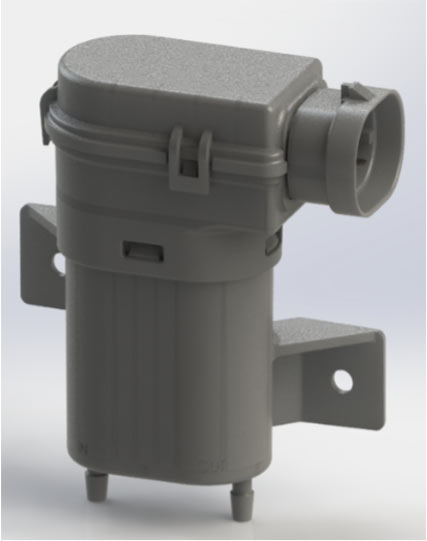 ClearFast® overview
The system's performance is impressive, with a rapid warm-up time of just 48 seconds for the initial warm-up and an additional 37 seconds for subsequent warm-ups, even in challenging conditions with a temperature of 20°F and a power supply of 16V. ClearFast® offers flexibility in communication methods, allowing it to connect via CAN, Serial, or Switch, ensuring compatibility with various vehicle setups. Furthermore, it boasts intelligent power management, adapting to the vehicle's power budget while providing essential boil-over protection. With a compact footprint and the separation of the heater and electronics, ClearFast® maximizes packaging optimization and location flexibility. This versatile system is not only compliant with the SAE J942 freeze/thaw test but also integrates seamlessly with wiper system control functionality, making it an invaluable addition for maintaining clear visibility and safe driving in challenging weather conditions.
Ascencione
  ´
® 
Value
Separated heater and electronics for optimized packaging
Lower current draw than other systems
Intelligent power management for adaptation to vehicle power budget
Boil over protection
Smaller footprint – location flexibility
Can be used with various types of de-icing / bug remover fluids
Compliant to SAE J942 freeze/thaw test
Integrated wiper system control functionality