Supplier Award 
Presented! We recognize their contribution to GE Appliances in Value, Innovation, and Productivity. We give you this Supplier Award!
We bring good things to life.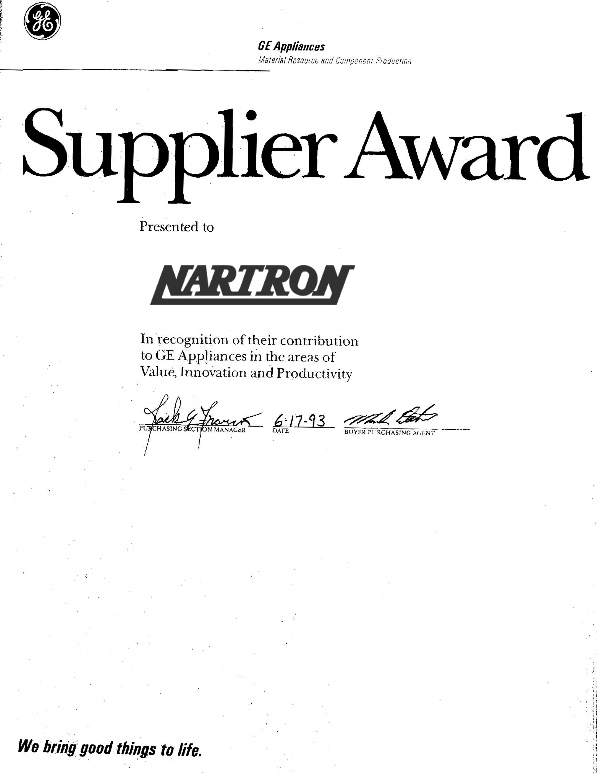 GE Appliances 
Suppliers play an important role in businesses by providing high-quality products from manufacturers at a good price. Suppliers are vital to businesses because they provide the products or services that businesses need to function. In addition, suppliers help businesses stay organized by keeping track of inventory and delivery schedules. Suppliers also help businesses grow by providing new products and services. Suppliers who provide exceptional service and products can be recognized with a Supplier Award. Supplier Awards are given to suppliers who have a proven track record of providing high-quality products and services at a fair price. Supplier Awards are a way for businesses to show their appreciation for the suppliers who help them succeed.
We are pleased to display the Supplier Award from GE Appliances. We earned this award in recognition of our contribution to GE appliances in value, innovation, and productivity. We are honored to receive this award and proud to be recognized as a leader in the industry. This award is a testament to our commitment to designing, producing, and delivering quality products to our customers. We will continue to strive for excellence in all we do and remain dedicated to providing our customers with the best possible products and services.
We are honored to have been selected as your Supplier of the Year over the years. It is our privilege to serve your company and we look forward to many more years of mutual beneficial association. Your cooperation has helped our business run smoothly and has led to a respectful business relationship between our two companies. We wish your company the success that it deserves. Thank you for your continued business.